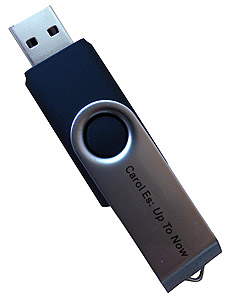 Up to Now is the six-minute movie created by Carol Es, Jonathan Nesmith, and Susan Holloway as part of the the Exodus Project. This slick custom engraved flash drive is a beautifully vibrant play of the movie at its highest definition. Narrated by Carol Es, the story covers her "exodus" into the high desert terrain near the Joshua Tree National Monument in Southern California.
Up to Now is both literal and semi-abstract. It features animated characters against the unique Joshua Tree landscape. The two main characters are, "Moppet" - a long time autobiographical rag doll that Carol has used to represent herself in her art, and a giraffe-like thing named "Yuddy," who has a yud (Hebrew letter) as its head, which is meant to represent the artist's spiritual quest. In Jewish mysticism, the yud is also known as The Infinite Point. It is the spark of G-d's infinite light to make a place for creation within a single void. Thus, the yud has the power to contain EVERYTHANG - a kind of ultimate learning experience for Moppet to live along side her emotional baggage (or "junk") throughout her trek in the desert.
The flash drives live in their own 3.5 x 5 inch black hard boxes with flat magnetic closures and are available in two separate editions:
Artist's Proofs - an edition of only 10. These were originally produced for the first conception of Exodus, the solo exhibition at Shulamit Nazarian Gallery in Venice, California in 2015. They include the orange promotional badge on the cover, along with a description of the movie on acid-free velum produced by the gallery. They also come with an original 4.5 x 3.25 inch watercolor and ink painting of Yuddy on archival illustration board that fits perfectly inside the little black case. These paintings are signed and numbered by Carol Es.
the Spark Edition - limited to only 20. STILL IN PRODUCTION: 2017 This edition will include a 3.25 x 4.5 inch, 26-page handmade Artist's book with unique markings in colored pencils, Sumi ink, pen and graphite. It will also have a simple circle drawing loosely tipped into the centerfold and original pencil doodles on the back of every colophon. Additionally, the little book includes imported papers from Italy, Epson Ultra chrome K3 inks, linen card stock covers and a hand stitched binding. The books are signed by all three creators of the movie, numbered and handmade by Carol Es. The cases feature a playing card with an antique picture of Joshua Tree in the spring time.