November 2010, Carol Es @ George Billis Gallery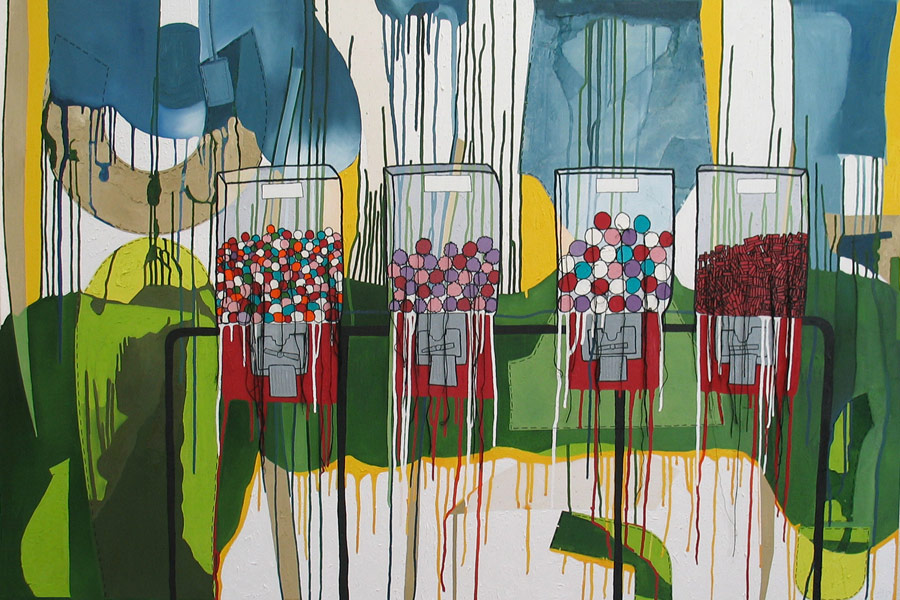 Carol Es, Machine, 2010
40 x 60 inches, Oil, paper, pencil and embroidery on canvas
Courtesy of the artist and George Billis Gallery
Carol Es: It's Mostly About Me and Much Less About You
George Billis Gallery
2716 South La Cienega Boulevard
Los Angeles, CA 90034-2642
October 30- December 8 2010

In her third solo show at George Billis Gallery It's Mostly About Me and Much Less About You, Los Angeles based artist Carol Es thoughtfully meditates on memories of her fragile past and literally mends those reconstituted images together with thread directly on the canvas. Her art practice is a deeply intimate collage of memory as Es incorporates pattern paper, thread, and paint onto a single surface. Her works utter her story of her unusual childhood which Es spent producing "U" collar pattern forms with her brother and father. While her childhood was marked by clocking and in and clocking out of a factory producing the same collar over and over again, Es has reclaimed the pattern form and gives it a prominent role in her works.
Separation marks one such instance where the pattern form bifurcate an exposed, beating heart from a pencil rendering of what could be Es as young girl with long hair, wide vacant eyes, and a floppy raggedy Anne-style collar. Written in a hand similar to that of a an elementary school student learning to write cursive for the first time on thick lined paper, the stiff squared letters read, "Now here you go again. You say you want you freedom. Well who am I to keep you down?" The text continues towards the bottom of the painting and says; "Listen to the loneliness like a heartbeat drives you mad. And the stillness of remembering of what you had and what you lost." The connective tissue of the heart is consumed by painted lines and despite the collar forms which serve as a protective barrier, the veins struggle to penetrate the form making their way to the handwritten note and over the girl's face. Separation touches on a theme that lies at the crux of Carol Es' work that is present not only in It's Mostly About Me and Much Less About You but in her 2008 solo show She Dreamed, She Remembered, and that is the power of memory. Through the repetitive act of creating pattern forms in her adult life, the past becomes activated, enlivened, and manageable to the point that Es can reconcile with it. By turning the pains of the past into a present marked by beauty and acceptance, Es' apt title for her show rings true and the body of work is "mostly" about the artist and "much less" about the viewer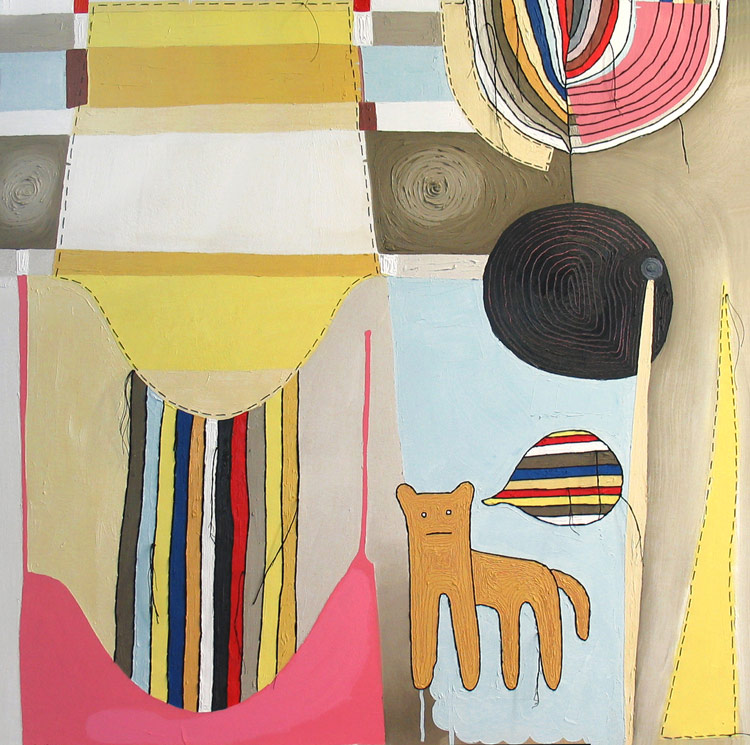 Carol Es, Danarama, 2010
30 x 30 inches, Oil, paper and embroidery on linen

Lining the gallery wall opposite works on paper and canvas are handmade creations that Es calls Moppets, constructed out of fabric, yarn, thread, cotton, and stuffed with plastic bags. While Es was trained as a pattern maker she never formally learned how to sew, thus the crude and heavy- handed stitch work on the dolls are not intentionally they are simply Es' manner of sewing. The "moppets" are a cross between a handmade doll suited for a child yet they are simultaneously cloaked in whimsy and malice, which makes them feel more like a Voodoo doll. Constructed using found scraps of fabric; each piece is unique as the person they are meant to allude to. Calvin is outfitted with a metal gun, trifocals, and "meticulous" is stitched across his brown plaid shirt, which seems deeply ironic as scraps of thread hand from his hand and arms. Perhaps the glasses or the fabric are remnants of a deceased family member and the doll is a meant a portable memorial. A second "mopped" named Medina wears a plaid dress with repetitive arrows and motions sewn into her eyes, while number 1-8 characterize her mouth. Stitched on her garment are the words "suffer," "wretch," "solace," and affliction," which are temporarily overshadowed by the quaint rendering of a tree sewn on the dress. In Es' painterly world nothing is what it seems- that is to say you can never only look once at her work and expect the answers to reveal themselves.
It's Mostly About Me and Much Less About You also marks the debut of Scribbles in a Sandstorm a 7x7 in hardcover bound book, which won't be officially released until 2011. Scribbles in a Sandstorm is the first book from Es since her limited edition 2008 work Horsebucket. The removable spin allows the book to fold out like an accordion and provides an intimate glimpse into 40 color printed images using Epson Ultrachrome K3 ink. Images from the artist's sketchbook and signed images of all pieces are also included in the book, which has a limited run of 20 copies.
In her works Carol Es depicts herself as a haphazard rag doll- lanky, wide-eyed and long dark hair. The characters that stand in for Es in her pieces prove dramatic as they not only place within the artist within circumstances of a dysfunctional family, loneliness, and pain, but allow the viewer to place themselves in her shoes as well. In Contender Es repeats the image of the girl several times- first perched behind a wall of lopsided pattern forms, hanging from a paint drip, and suspended from the painting in a chalk outline. The different poses suggest different versions of the self as the figures hang high about the familiar "U" collar form painted in a rich dark green. The dialogue between the paper form, the paint, and the stitching signal a laborious methodology and speak to Es' ability to transform materials elements of the past into an entirely unpredictable and new present. While canvas doesn't necessarily need mending, Es' attention to detail causes us pause and makes us reconsider just how sturdy a canvas really is.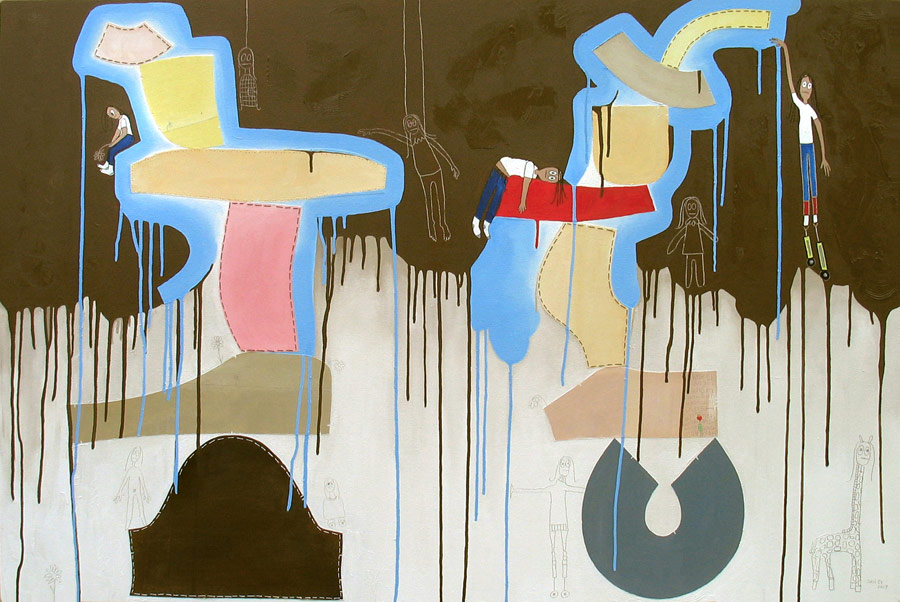 Carol Es, Contender, 2009, 40 x 60 inches
Oil, pencil, paper patterns and thread on canvas.
Courtesy of the artist and George Billis Gallery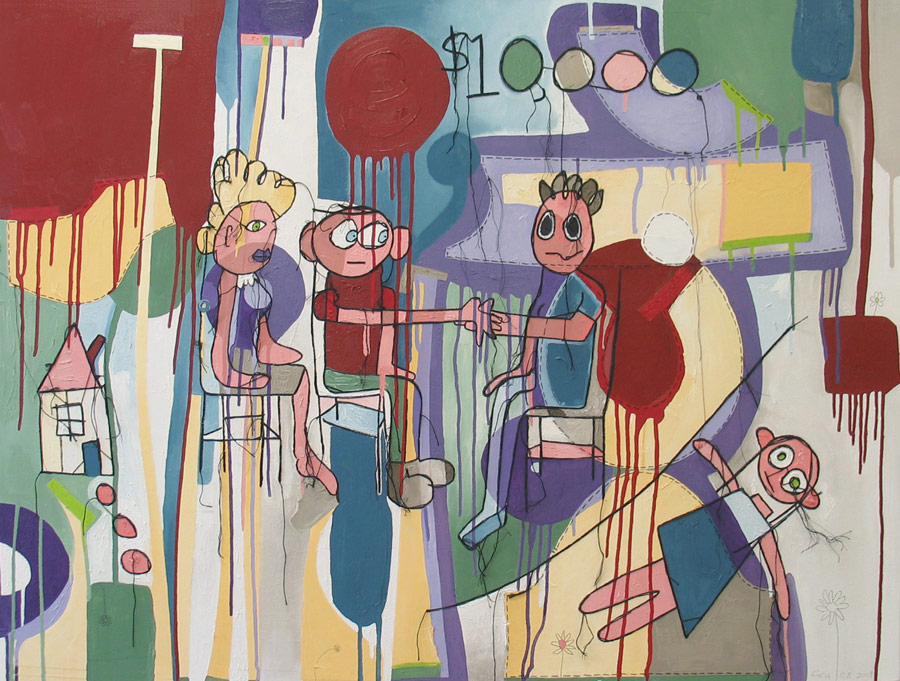 Carol Es, The Deal, 2009, 36 x 48 inches
Oil, paper and embroidery on canvas
Courtesy of the artist and George Billis Gallery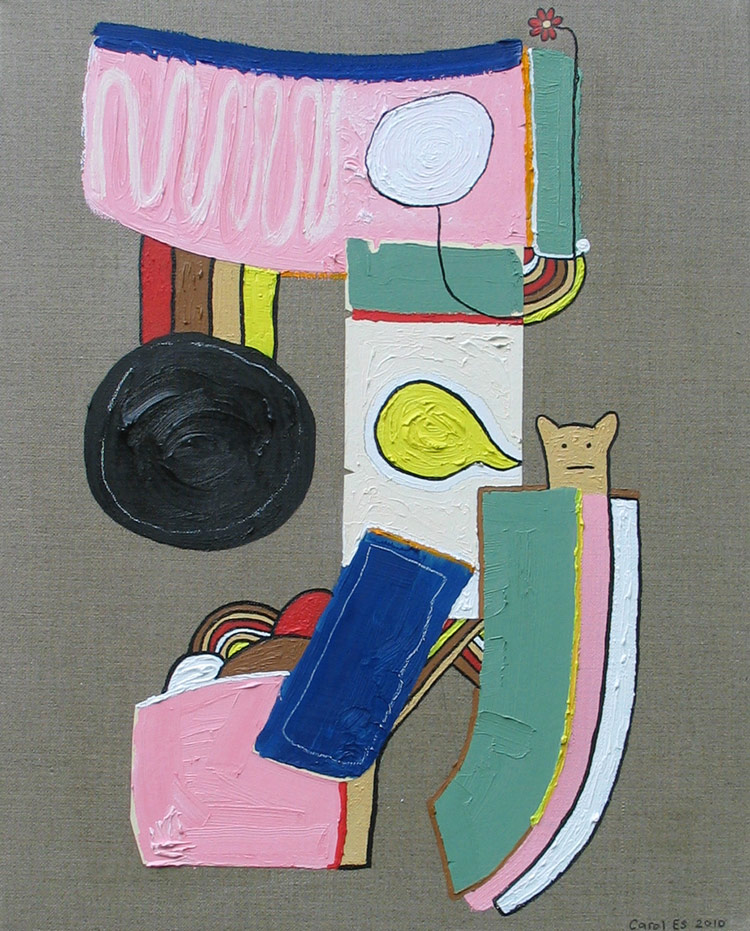 Carol Es, The Birth of Dan, 2010
20 x 16 inches, Oil and paper on linen.
Courtesy of the artist and George Billis Gallery.