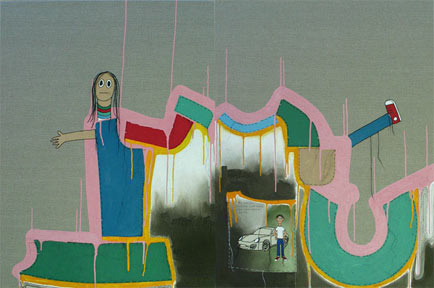 Carol Es, "Too Much Under the Bridge," 2010, oil, paper, patterns, thread, embroidery on linen, 40 x 60".
Carols Es' drawings and paintings have a childlike simplicity yet while the articulation is pared down, the content is not. Titled "It's Mostly About Me and Much Less About You" this body of work draws from Es's life, using characters from her family as well as her work in the apparel industry. The multimedia works include pencil, paint, embroidery and swatches of fabric woven together to create narratives in which the individual grapple with the struggles of life. Es' characters have exaggerated features and not much detail, but their expressions and gestures are poignant commentaries on today's economic, social and political climate. Using vivid colors, Es comments on both fashion and the urban landscape, routinely collapsing fantasy and reality. Her new works solidify that through a developed personal vocabulary of mark-making even the simplest gestures can resonate (George Billis Gallery, Culver City).
JZ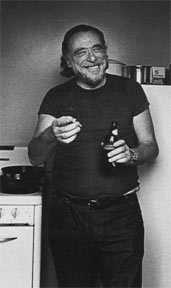 Author Charles Bukowski

As Charles Bukowski famously said, "All I need now is what I needed then: a desk lamp, the typer, the bottle, the radio, classical music, and this room on fire." In a vitrine at the center of the gallery featuring the writer's papers, drawings, and ephemera, we are presented with most of Bukowski's stated essentials; a wine-stained glass, the author's last manual typewriter, and his old radio tuned to the classical music station. In addition, "Poet on the Edge" displays a small fraction of the Library's holdings of the writer's literary archive, including correspondence, drawings, manuscripts, and photographs from Bukowski's troubled childhood through to his hard-won success and flirtation with Hollywood. Pivotal milestones, such as the writer's friendship with John Martin and Black Sparrow Press, are documented with personal notes and first editions. These marked the time when the author was able to leave his job as a letter carrier and pursue his writing full time. For viewers taking time to read the poetry and prose on display, the room does indeed come on fire (Huntington Library, Pasadena).
MB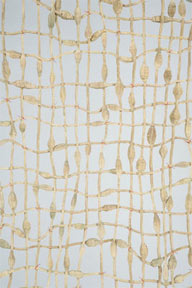 Trine Ellitsgaard, "Red," 2009, braided palm leaves and horse hair, 51 x 38".




Apparent ease and graceful agility mark the work of master weaver and textile artist Trine Ellitsgaard. Born in Denmark, but living in Oaxaca, Ellitsgaard's materials range broadly between traditional and modern fibers, often posing elegant metaphors for contemporary living. Reminiscent of Agnes Martin's minimalism, thin black rubber tubing is knotted and woven into a simple grid on a neutral background of plastic and silk in "My Life in Oaxaca" (2010). Although the backgrounds are usually hand-woven fiber mats, the size and presentation of the work often makes one think of works on paper or canvas. Her larger hanging cut felt pieces, simply adorned with small rectangles of mica, are sculptural columns, even totemic. A clean Danish abstract sensibility runs through all the work, even when she uses kinky black horsehair to depict the top of her son's head. The companion piece somehow uses densely embroidered paper thread to represent the same head after a significant haircut. The personal information is superfluous, however, as the works stands well without it - as they should (Latin American Masters, Santa Monica).
Jeannie R. Lee



Rachel Lachowicz's work often takes its point of departure from other's art using media drawn from a woman's makeup kit. She has crafted minimalist sculpture from bright red lipstick and pop pictures out of squares of eye shadow. In her first Los Angeles exhibition in five years she continues the combination in wall and floor pieces. A monochrome work that appears at first glance to be a large white rectangle reveals itself to be comprised of numerous squares of white eye makeup with light blue horizontal lines. The work suggests that painting of Agnes Martin. In addition to using eye shadow and lipstick, in this exhibition Lachowicz has created a work made from pink soap - an homage to Mary Cassatt as well as a minimalist sculpture which she fabricated from metal shoe boxes. Lachowicz has a feminist agenda: each of the works here either celebrates women artists or critiques male hegemony (Shoshana Wayne Gallery, Santa Monica).
Jody Zellen




Martin Mull, "Comedian," 2010, oil on linen, 29 x 90".
Although you may know him as Roseanne's gay boss or the voice of Father Donovan on American Dad, Martin Mull was actually an artist long before he ever made it to the screen, and from the looks of his new show, "Split Infinitives," he spends at least as much energy on his paintings as he does on being a funny guy. The paintings are not so funny - "Comedian" is a black and white oil on linen of a man hunched over watching TV; behind him a woman is lying on a low bed with an arm thrown over her eyes like something hurts. Like the photo it was taken from, the man's face is a blaze of white TV reflection. Not surprisingly, Mull tweaks and reconstructs the idea of a Hollywood set by constructing his not-quite-seamless content using bits and pieces of photographs gleaned from found and personal sources. Like grimly detailed storyboards, the implication of narrative adds suspense, but it is the relationship between the men and women in each work that really provokes (Samuel Freeman, Santa Monica).
JRL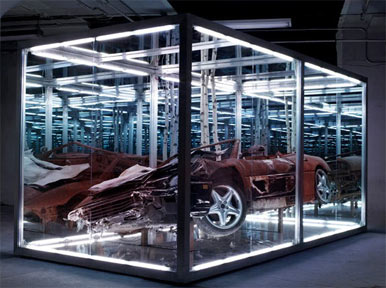 Anthony James, "KT," 2008, wrecked Ferrari 355 Spider, birch, florescent lights.
British artist Anthony James' "?T" is a tour de force sculpture. It consists of the purposely charred remains of the artist's Ferrari 355 Spider, housed in a one-way-mirrored steel and glass vitrine, along with a few birch tree trunk segments from the same forest where the car was set afire, in Kingston, New York. "?T" stands for kalos thanatos, ancient Greek for "beautiful death." While of course bearing the inevitable stamp of Damien Hirst (what large, rectangular, glass-encased object could possibly evade such a comparison?), the work presents a substantially different kind of experience. As aestheticized as the presentation is - down to the deep-space, near infinite reflections from the interior, one-way mirrors - the work is equally tied up in both memorial and process. The rusted remains can't help but circle one back to a performance unseen. That the genesis of the project derives from a reaction to 9/11 is a tough nut to crack - or pill to swallow - but it's no stretch at all to accept that the gesture is an act of sacrifice. Over in the East gallery, the smaller, similarly lit vitrines (with fluorescent tubes lining the inner corners) are filled with mini-birch forests, and at least by comparison to the central work, feel relatively precious. Perhaps too much nature for their own good (Patrick Painter Gallery, Santa Monica).
Michael Shaw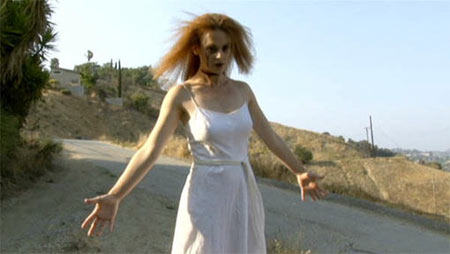 My Barbarian, "The Night Epi$0de Two: Yoga Matt," 2009, single-channel video still.

In their first U.S. solo museum exhibition the Los Angeles collective My Barbarian (Malik Gaines, Jade Gordon and Alexandro Segade) create an installation that combines props, projection and short videos presented on monitors. They have expanded the focus of their work to move from screen to screen rather than being limited to a single projection. Their project, titled "The Night Epi$ode," is an investigation into the powers of art, the intricacies of the art world, and the struggles of those hit by the economic crisis confronting contemporary society. This is impeccably crafted social commentary. Conceived as an installation rather than as a performance or single narrative, the work allows for multiple points of entry and stylistic experiments that multiple perspectives and interpretive options (Hammer Museum, West Los Angeles).
JZ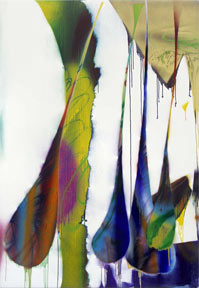 Katharina Grosse, "Untitled (KG/M 2010_1013L)," 2010, acrylic on canvas, 84 x 58".
Katharina Grosse's newest paintings look like reverse graffiti. The graffiti part should come as no surprise to anybody who has seen her spray-painted bedroom or any of her other ephemeral color field installations, which look like nothing so much as a whirling dervish gone painting with a spray gun and an ecstatic dance. In light of her past, this show looks remarkably contained; all the canvases are large upright rectangles with white blank space dominating the content of many of the works. That said, the color, which was apparently sprayed on top of stencils, runs and drips with such vigor that even from the cracks and creases of the painting the background threatens to take over the foreground. Indeed, the condensed vitality of the mess of colors swarming in the "negative space" ties the question of foreground and background into a pretzel (Christopher Grimes Gallery, Santa Monica).
JRL

A dynamic group exhibition of animated works includes artists who are both known and for creating films and not filmmakers at all. The title, "Stop.Move." references the methods employed by the artists, specifically the use of stop motion, which suggests the works were created frame by frame transforming still images like photographs, paintings, drawings and sculptures into animations. It is always a pleasure to watch Robin Rhode's works evolve as he draws, films, and redraws shapes on the wall to create the illusion of movement. His performative pieces are richly textured and socially poignant explorations. Hirsch Perlman juxtaposes still images in order to create the illusion of movement. In his film "Two More Affect Studies" the movement of cars along a road is syncopated to a jazz soundtrack. Nathalie Djurberg creates claymation narratives that at first glance seem innocent, but as the story evolves the plot becomes dark and disturbing. Matt Saunders' films are the most painterly among those exhibited. Saunders compiles hundreds of ink drawings, photographing them one by one to create his intricate and evocative animations (Blum & Poe Gallery, Culver City).
JZ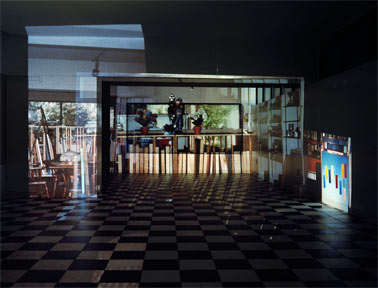 Augusta Wood, "Downstairs (1985, 1991, 1999, 2008)," 2009, chromogenic print, 29 3/4 x 39".
"I have only what I remember" is a surprisingly beautiful show of crisp color photos made from interior projections in Augusta Wood's grandparents' former home. Wood projected slides spanning over five decades - from the '60s to the present - on walls throughout the now empty rooms, combining anywhere from two up to six slide projections per chromogenic print. Wood's grandparents were both painters themselves, and so it's appropriate that one of the most visually complex photos (though each image delivers its own caliber of complexity), "Downstairs (1985, 1991, 1999, 2008)" appears to feature the former layout of the painters' studio recreated on the walls of the same space. There are separate projections of the couples' painting storage racks, one of them set into the very same formerly active alcove at the end of a black-and-white-tiled floor. It's a mesmerizing image, as is "To The River (2002, 2006, 2008)," which brings the outside in. In mixing and matching vintage images and making them the stars of their own photographs, Wood manages to both summon and dispense with nostalgia simultaneously (Angles Gallery, Culver City).
MS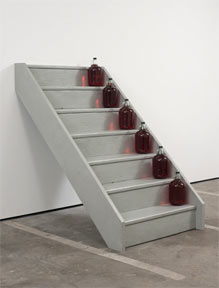 Amanda Ross-Ho, "Six Jugs of Blush," 2010, Carlo Rossi Blush, wood, enamel paint, acrylic paint, 66 1/2 x 43 1/2 x 61 1/2".
In her current exhibition Amanda Ross-Ho pushes at the boundaries of the conceptual and visual. The press release for the show functions as one of the exhibition's works. Most of the text has been crossed out, leaving choice words highlighted in red. It becomes a way into the exhibition as well as a souvenir. The exhibition that unfolds is self-referential, as it presents fragments from Ross-Ho's daily existence - bits and pieces of notes and scribbles - that formally relates to the red used to design the press release-cum-art. The works hang on the walls and cover the floor. They are connected by shape and color, and require the viewer to figure out what they mean and why they are presented together. Ross-Ho is an enigma by virtue of the fact that her work is deliberately obtuse (Cherry & Martin Gallery, Culver City).
JZ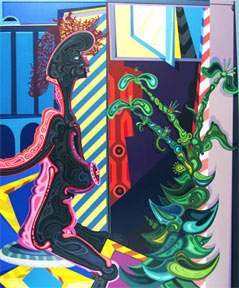 Erik Parker, "Untitled (Character Defects)," 2010, acrylic and gouache on canvas, 65 x 54".
While Erik Parker and Andy Warhol have would seem to have little in common, seeing their side-by-side exhibitions highlights formal similarities. Warhol's camouflage paintings have rarely been seen in Los Angeles, and this exhibition allows viewers to see the range of these works, which were created in the mid-1980s. Warhol used a colorful palette and manipulated the traditional pattern to create abstract works in a myriad of sizes. Parker is as much of a colorist as Warhol was, although his subject matter is not derived from popular culture, but rather from the history of art. He paints still lifes, nudes and landscapes that emphasize aggressively bright, saturated colors (Honor Fraser, Culver City).
JZ

Martin McMurray's acrylic-on-wood panels fill the back space of the gallery with a mood that's at once austere, comical, and folksy. Though the show is called, "Dystopia - 1010 Years Ago," the paintings themselves are titled "protagonists" ("Protagonist No. 31" or "Protagonists No. 5," for example). One series features couples or individuals posing at the front corners of Greyhound buses, or in front of a Greyhound station; the characters appear to be of a 1950s/'60s vintage, but may in fact be of a more recent timelessness. Another series is a grid of portraits of totalitarian leaders, all seated on the same rattan-style throne, mainly dressed in Castro-like, pseudo-military garb. The "Protagonists" series depicts a more aristocratic set. McMurray's style of figuration - subtle but disorienting distortions of scale - calls to mind the New Yorker's frequent contributing illustrator, Mark Ulriksen, at his best, and that's not a bad thing. McMurray's characters are far darker - at times melancholic, at others ominous. By dubbing them protagonists, clearly he has their backs, whether they're lost souls made heroic, or figures of power brought down to earth, made humble, even small; there's more than enough ambiguity in these would-be heroes to make for satisfyingly compelling portraiture (Susanne Vielmetter Los Angeles Projects, Culver City).
MS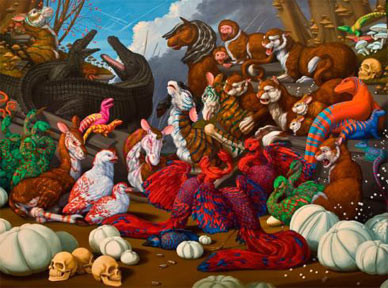 Laurie Hogin, "American Habitat Diorama: Silver Bullets in the Garden of St. Augustine", 2010, oil on canvas, 72" x 96".
Laurie Hogin makes humorously sinister paintings that fuse fact and fantasy. She is an exceptionally talented painter, who can render anything in exacting detail. In her current exhibition "Stories of Love and Hunger from the Candy Planet," animals, plants, fruits and vegetables coexist in invented environments. In Hogin's work everything is exaggerated and hyper-real. Hogin sees her painted world as a metaphor for our current cultural context, "one in which free markets promise stories, experience, images and commodities to fill every conceivable human need and desire from the most basic to the weirdest and darkest." The paintings, ranging in size from just a few inches to human scale depict mutant forms that glare out at the viewer, baring their teeth and inviting debate. The works are simultaneously precious, seductive and disturbing (Koplin Del Rio Gallery, Culver City).
JZ
Darren Hostetter, "Clusterfubar 1," 2010, acrylic on aircraft aluminum, 12 x 12".


The work of Darren Hostetter is a specialized humor akin to Mel Brook's handling of the Spanish Inquisition as an aquatic song and dance number (from his film "History of the World, Part I"). Military helicopters pirouette in mid-air against a serene pink background. Intricately painted machines built for war, defy gravity and are temporarily suspended from reality. We see more examples as fighter jets connect to create snowflake patterns. Designer logos decorate the exterior of suicide vests and bombs function as computer circuitry to provoke both funny and serious commentaries on how America is characterized by much of the world. This is an ironic play as these symbols of aggression and war take on a softer personality. A dark and entertaining ploy that humor seems apt to address. The issues of importance for Hostetter range from social politics to terrorism. How these issues arise in one painting is up for debate and is indicative of the show's title, "Clusterfubar," an acronym (fubar stands for "fucked up beyond all recognition") used to characterize the current socio-political environment. The highly detailed works are painted on an aluminum normally used for building aircrafts. While the images draw the viewer in, it's the juxtaposition of concepts that creates a conceptual mess. Dangerous and symbolically aggressive images are transformed into designed scenarios that appear ridiculous. In this way, Hostetter's work is ironically reminiscent of the dark comedy, Stanley Kubrick's "Dr. Strangelove," where the officers are reminded that "... you can't fight in here ... This is the War Room" (Sam Lee Gallery, Chinatown).
G. James Daichendt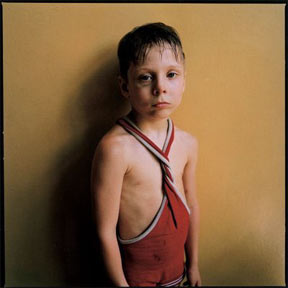 Michal Chelbin, "Black Eye, Ukraine," 2006, chromogenic print, 37 x 37".
A show featuring the photographic works of Israeli artist Michal Chelbin and California-based photographer Hugh Holland present disparate visions of childhood, athleticism, and homosocial experiences. In "Locals Only" Holland's color photographs document skateboarding culture in the mid-seventies, specifically the days of Dogtown in Venice, California where skateboarding was an extension of surfing and not yet a commercial sport. "Locals Only" captures the renegade spirit of local skaters who trespassed into backyards to defy gravity in empty swimming pools and smoked grass on the sidelines. "Down on the Corner, Danny Kwok, Balboa Beach" celebrates a moment when young Kwok is lost in the bliss of skating on asphalt. Barefoot and bare-chested, his pre-adolescent physique is low to the ground as if it were gliding on invisible beads of water. While the boys of Z Town seem blissfully unaware of the camera, the European athletes of professional wrestling schools in "Black Eye" are acutely aware of its presence. They awkwardly pose in unitards that accentuate every part of their developing form. "Black Eye Ukraine" depicts a small boy who couldn't be much more than ten years old, his unitard straps twisted in a knot on the front of his chest. He stares directly into the lens despite his blackened right eye. Chelbin's subjects range from pre-pubescent to mature males, as seen in "Llya, Ukraine' who seems proud of his chiseled chest as it straddles his waist. While wrestling is an age-old sport, the series chronicles a European ethos and expectation of boys to fight and wear it as a badge of masculinity. It makes skateboarding seem an act of child's play (M+B Fine Art, West Hollywood).
A. Moret

The converted Cappellini boutique that was upgraded into a gallery space retains just enough window glazing to allow glimpses of life on Santa Monica Boulevard and Almont to reflect back into the interior space. Acting as a container and protective skin for Dan Graham's elongated, two-way mirror glass "Penultimate Curving Pavilion," the building heightens the effects of Graham's play with contradictions of public and private, projection and reflection, exterior and interior. In addition, five architectural models, two video works and a series of photographs exhibited alongside the pavilion allow for more vicarious explorations of Graham's work. The color photos, such as "Untitled (Mafia mansion, Deal, NJ)" and "Untitled (Highway front window fašade, Dunkin Donuts, Union City, NJ)" were taken during the artist's recent revisit to small town areas along the Jersey coast. Chairs are provided so visitors can linger and indulge in viewing Graham's 8 minute video, "Death by Chocolate: West Edmonton Shopping Mall." The longer "Classic and Recent Installations/Pavilions 1974-2008" recaps more of Graham's effective explorations of the boundaries of physical and social space. However, for most visitors, the main draw is the opportunity to experience Graham's work firsthand. They repeatedly walk through and peer into and out of his curving glass and steel pavilion, observing and being observed (Regen Projects, West Hollywood).
Diane Calder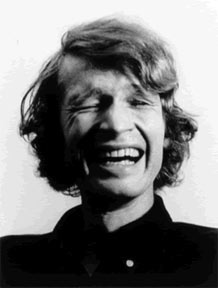 Bas Jan Ader, "I Am Too Sad to Tell You," 1971, still from 16mm film.




As a quirky homage to his fellow Dutch artist Piet Mondrian, Bas Jan Ader documented one of his now iconic "falls" in the shadow of the Westkapelle lighthouse. Titled "Study for On the Road to a new Neo Plasticism, Westkapelle, Holland," Jan Ader is depicted as forming the black grid, face down, artfully incorporated into blocks of primary colors. This early work underpins the impetus for much of Jan Ader's project: admiration, aspiration, and the probability of failure. In "Untitled (Swedish Fall)" the artist falling in a forest alludes to his father - a resistance fighter and war hero - who was murdered in a similar locale by Nazi forces. Jan Ader's final unfinished piece, attempting a solo voyage across the Atlantic in a boat barely twelve feet long - and his tragic disappearance in the North Atlantic - is exhibited along with works by other artists subsequently affected by Jan Ader's brief but affecting career (Pitzer College Art Galleries, Claremont).
Michael Buitron




Titled "Hidden Places," the multi media work of South African-born painter Daniel du Plessis is subtle and complicated storytelling expressed through meticulously detailed and flawlessly executed depictions of flora and fauna, and metamorphoses of both. Du Plessis uses beauty to tell dark, disturbing stories of love found and lost, lust gone to dust and, above all, the ephemeral nature of all living things. To uncover the dark side of everything pretty and romantic, he spares neither mediums nor effort. For example, in "We Can Take, But ..." Du Plessis painted a set of old, bony hands holding a delicate bird's nest in meticulous detail that relates to late medieval illuminated manuscripts. Then again, due to numerous layers of applied paint, the painting is so luminous as to seem supernatural, a page from a sorcerers manual. For this and other works, he has built an elaborate mat/frame combination that contains countless replicas of bugs, butterflies, shells and other critters that he either formed from apoxy clay or bought/found and applied to the composition. The effect is one of a stage play, with the foreground evoking the main plot and the frame providing the back story, deepening the riddle rather than solving it. Flowers, tiny skulls and miniature toy animals painted a dark brown remind one of the narrow division between life and death. "Butterfly Nebula," an assemblage of 25 acrylic, mixed media and resin on aluminum on wood panels completed this year, reveals what might be a departure from du Plessis' obsessively detailed representation. It makes me wonder if he might have seen what fascinates so many filmmakers, namely the world beyond - whatever that may be (Huntington Beach Fine Art Center, Orange County).
Daniella Walsh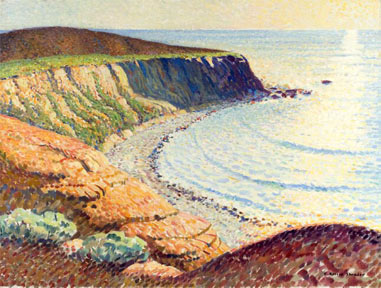 E. Roscoe Shrader, "Palos Verdes Coast," oil on canvas, 30 x 40".
Being a Southern Californian artist and well removed from the European source of Post-Impressionism of the late 19th century, E. Roscoe Shrader, throughout the first half of the 20th century, was free to appropriate the style, but by his own rules. He was a local leader in the arts, serving as President of the California Art Club and, for 30 years (1919-49) was an influential art teacher at Otis Art Institute. Unlike the Post-Impressionist masters, who opened the door to modern abstraction, Shrader did not seek to create formal compositions, geometric constructs, or to build an image plane by plane. Rather, Shrader sure-handedly painted directly with little or no preliminary drawing on the canvas, whether a figurative image, a still life, or a landscape. The free spirit that is conveyed can also be attributed to his skill in seeing the whole composition before completion. What remains of the Post-Impressionist source is how his colors sing, shimmer with dazzling light, and are drenched in romanticism. Thus, Shrader's art leans more towards the highly emotive. Shrader's paintings were formed with individual freely-made yet, expertly controlled broad gestural brushstrokes. The artist continuously must have been captivated by the wonder and beauty surrounding him. As to why this wonderful painter has been obscured with time, he gave away much of his art to friends and loved ones. In this way Shrader narrowed his circle of collectors and reined in any possibility of fame. Despite his impracticality, this exhibition reveals an exceptional body of work worthy of fresh consideration (Laguna Museum of Art, Orange County).
Roberta Carasso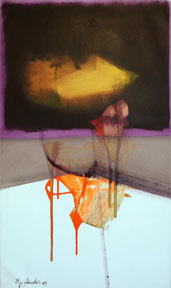 Olga Sinclair, "Untitled 1," 2010, oil on canvas, 41 x 25".
Passion is immediately visible in the canvasses of Panamanian artist Olga Sinclair. Sinclair is clearly a colorist and uses paint brilliantly. The title of the exhibition is "Saturation," and the paint soaks into the canvas from watery thin to impassionedly thick tones. Her palette is largely composed of luscious colors: imperial purple, violet, sable, fuchsia, crimson, and candy apple green. Each of her robust still lifes, of over-sized and sensual fruit, are composed of multiple voices that interact simultaneously. Using broad sweeping strokes with those saturated colors, Sinclair forms enormous, overlapping planes alternate between transparency and opacity. This allows us to see through the layers of a painting, as if looking through glass. For added sensuality Sinclair drips paint, some ribbon-like, that seem to flow spontaneously, as if it knows just where to go. Then Sinclair draws powerful lines that intersect the picture plane in several directions, straight and crossed, giving the canvas an even greater sense of voluminous space. The lines knife through the various planes of the painting, increasing the distance from foreground to background, and adding a haunting rhythm to the visual chorus (Salt Fine Art, Orange County).
RC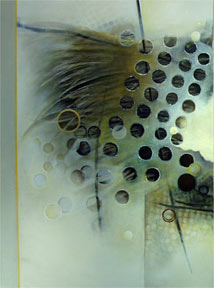 Chiyomi Taneike Longo, "White Passage #47," charcoal, acrylic, oil on panel #1 of tryptich, 40 x 30".

Al Longo and Chiyomi Taneike Longo work individually, but their dialoguing works reflect the dynamic of a married couple. While each artist has exhibited alone and together in group shows, this is the first time exhibiting side by side. The show depicts the symbiotic world of creative soul mates who have painted together for 45 years. It is clear that they have profoundly influenced each other's spiritually oriented abstract works with strong references from nature, Japanese artistry and symbols. Chiyomi, working with charcoal, acrylics, sumi inks and oils, instills works with natural figures, particularly trees, and biomorphic forms. Each painting, including selections from the "White Passage" and "Seed of the Mind" series, has movement, some with multiple panels for each, telling stories of the passage of time, of musical arrangements and of the fusion of light and dark, yin and yang. Using a palette of blacks, grays and light colors, with soft black lines of charcoal and of strong black lines and large splotches from sumi ink, there is a strong presence of calligraphy. Al's paintings, mostly oils, with collage elements of Japanese wrapping paper, some on shaped canvasses, are more vividly colorful and masculine with bold, fluid shapes filling the canvasses. The abstract shapes are comfortable on the eye, influenced by natural elements seen through a microscope. "Inner Landscape 1-5 #2," the boldest work here, is a large, vibrantly colored oil and collage of scenery along the 1-5 freeway, abstractly depicting roads, trees, mountains and sky (Marion Meyer Contemporary Art, Laguna Beach).
Liz Goldner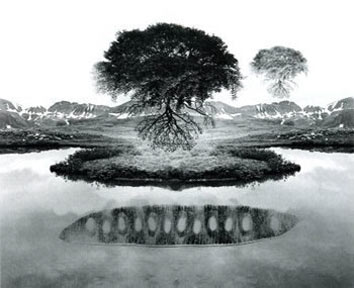 Jerry Uelsmann, "Untitled," 1969, gelatin silver print.
Husband-and-wife exhibitions are unusual, but not so this month. For Jerry Uelsmann and Maggie Taylor, partners in art and in life, the pairing yields the ideal perspective for viewing each other's work. Both artists build composite images. Uelsmann uses the darkroom, moving the image from enlarger to enlarger, to create his black-and-white, gelatin silver prints. Taylor uses the scanner and computer to produce her color - sometimes it is eye-popping - pigment prints. Despite these differences, the similarity in their work extends beyond the sharing of parts of images. A certain tree, a pile of rocks, or a ladder, for instance. Their parallel sensibility is particularly evident in four pieces displayed together: two of Taylor's "Alice-in-Wonderland" pieces (2006), and Uelsmann's "The Long Now" (2005) and an untitled piece (1997). The narrative flows between these pieces because of the works' common sense of isolation and timelessness with a surrealistic tinge. Also on view are "Reflections: Exploring Cultural Identity," "In Light: Selections from the Permanent Collection," and "Seeing Beauty" (Museum of Photographic Arts, San Diego).
Judith Christensen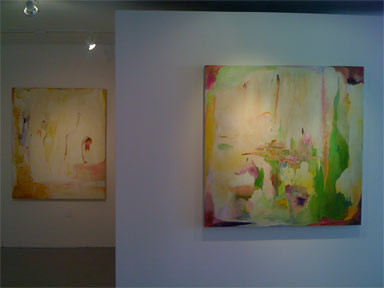 Joshua Elias, installation view of "The Golden Thread".

To create abstract expressionist paintings not derivative of the iconic abstract works of the mid-20th century is a challenge. Joshua Elias often rises to that challenge in 19 boldly colorful works. At first glance they appear to be purely abstract. On closer inspection one sees that they contain figurative elements, telling childlike stories of mythological and real animals and of dark places at the bottom of the ocean. Perusing a bull's head in one painting, an elephant's trunk in a second and dark sea creatures in a third, is to perceive an artist's creative intentional (rather than automatic response). Yet, these abstract works, with their strong sense of formal balance among shapes, colors, lines and mood, can be appreciated for how they look as well as what they are about. Elias balances blues with smaller amounts of yellows and magenta in "Call of the Ancients II," creating a fluid painting that evokes water and sky. "Elephant Painting" is an intricate juxtaposition of yellows to dark browns, calling up the terrain and beat of the jungle (Brett Rubbico Gallery, Orange County).
LG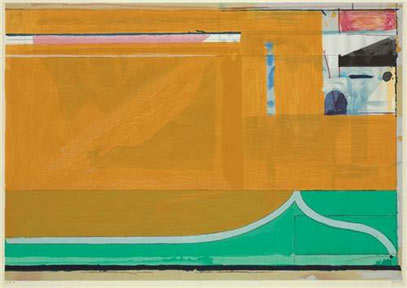 Richard Diebenkorn, "Ochre," 1983, painting, wood block print, 25 x 37 1/2".
The theme that pulls this group show together is how individual artists portray their "Perspectives on Reality." To George McNeill, Reality is expressed with vivid colors, motion, energy, and the joy of being alive. Painted on a large canvas that embraces the viewer, the overlapping figures playfully bounce around the scene, one figure merging into another, and in the most child-like and delicious colors. Photographer Jean-Francois Rauzier has developed a collage technique in which he stitches together up to 50 pictures into a single image. In a large Chromogenic print of a believable, yet impossible home, he traps us with his 50 perspective points. Our eyes continually move through the scene, as we look for a way out, a restful space; but instead, we discover yet another object or person. Rauzier draws us into the visual space of the home using both perspective and mirrors upon mirrors. The eye cannot help but wander up and down, in and around, continuously coming upon hidden stories in this compelling, yet claustrophobically surreal image. John Paul Jones, who is currently featured in several venues, is represented here with "The Rose Queen's Mirror," a wood and copper wall sculpture where the viewer becomes part of the reflection in a ghostly frozen moment. Being who he is, the work is sensitively crafted with both flatness and dimensionality, just enough to captivate the viewer who finds his image staring back from a darkened copper field. Reality becomes whoever peers at the sculpture. Richard Diebenkorn's woodblock print shows his unique Reality expressed in his Ocean Park series. It's a geometric world of exquisitely formed blocks of abstract space and shapes, presented in vivid colors that portray the world in its purest form (Art Resource Group, Orange County).
RC

Joe Sorren, "Interruption," 2009-10, oil on linen.

The paintings of Joe Sorren are childlike, cartoonish, dreamlike and lowbrow. But to so label them is to trivialize them. These seemingly innocent works are the product of a world-class painter, albeit a modest one, who paints for the sheer joy of it, who understands that the journey of making art is art itself, and that a finished p ainting is the beginning or inspiration for a subsequent painting. Each of Sorren's colorful works is a complete scene, a slice of life, inhabited by round-headed, child-like, shmoo-like characters. The series consists of characters with soft edges, in soft hues, all with soft, short hair, at play with balls, in exotic forests, on the beach, at elegant events in gowns, relaxing in bed, posing for a painter. Sorren says, "I start out on a new canvas, with the idea vaguely pointing the direction. Sometimes this can lead to new perspectives and associations within the painting." As a whole, the works present an imaginary world somewhat reminiscent of Tolkien's Middle Earth. Several sculptures, created in collaboration with Jud Bergeron, depict similar characters, although more rough-hewn, giving the viewer a literal space to see and now to cohabit (CSUF Grand Central Art Center, Orange County).
LG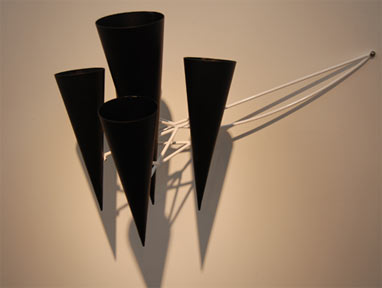 Dean DeCocker, "Black Tide," 2010, acrylic paint, cardboard, metal powder coat, 26 x 17 x 16".

One doesn't need to possess a love of aircraft or flying to appreciate the exceptional concepts and aerodynamic construction of Dean DeCocker's sculptures. Using an array of forms and colors, most culled from planes and race cars, DeCocker uses precision and minimalist structure to create multi-dimensional works that are both elegant and playful. Black cones softly floating out on white rods, twiggy steel sprouting earth-tone circles, and clusters of striped and solid wings and propellers transport us into recognizable worlds, but which are keenly and cleanly filtered through the artist's penchant for the parts and pieces of mobile machines. Possessing unique anatomy and hue, DeCocker's creations take us to both the inner and outer destinations (Andi Campognone Projects Downtown Center, Pomona).
Stacy Davies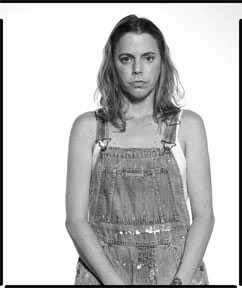 Amy Bystedt and Sally Egan, "Richard Avedon" from "Hats Off," photograph.

Paying artful reverence to some of the 20th Century's great photographic masters, in "Hats Off" Amy Bystedt and Sally Egan expertly recreate a host of famous images that mirror the originals almost down to the molecular level. But imitating conceptual portraiture from the likes of Diane Arbus, Cindy Sherman and Richard Avedon is not the central aim of the artists. More significant are the images they've chosen - John Baldessari's "Wrong," for example, which challenged the notion of artistic rule-making - that make their homage not just consideration of what is historically significant, but a vehicle for perpetuating such examinations. Over it all hovers the idea of what it means to recreate art by other artists - the challenge of which can be significant - together with how this mimicry might serve as a gateway through which the layman is exposed to greatness (La Sierra University, Brandstater Gallery, Riverside).
SD