The Exodus Project
More than just a solo show.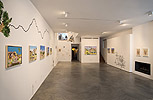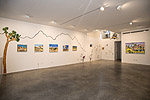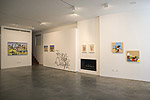 The Exodus Project, began as a year-long endeavor that resulted in a solo exhibition at Shulamit Nazarian Gallery in Venice, CA in the spring of 2015. It incorporated a video installation called, Camp Up to Now as just one of its segments. The project was based on a 10-day trip near Joshua Tree National Park where I spent time in deep meditation while studying Kabbalah. I also kept a daily blog, plus hard file field notes, took photographs, and generated countless sketches. Additionally, DV footage I took would then become a collaborative film, entitled, Up to Now. But all of this would not only become the grounding for Exodus, the exhibition; it became what is now the The Exodus Project.
This journey to the edge of the wilderness and process of self-reflection is conveyed in each brush stroke across the canvas, paper, and wood. The exhibition in Venice was anchored around the video installation and two major bodies of work - my mixed media collages - now called, Rock and Refuge, and a series of desert landscapes, simply called, the Joshua Tree Paintings. Also included were various watercolors of "junk" pieces being pulled on by yarn, and Tree of Life diagrams, also known as the Sephirot.
None of this: the initial 10 days in the desert, the exhibit in Venice, or the continuation of the the Exodus Project would have happened without the good people that helped fund my Kickstarter campaign.