Queersition, 2023.
A Zine by Ayin Es, Desolate Press.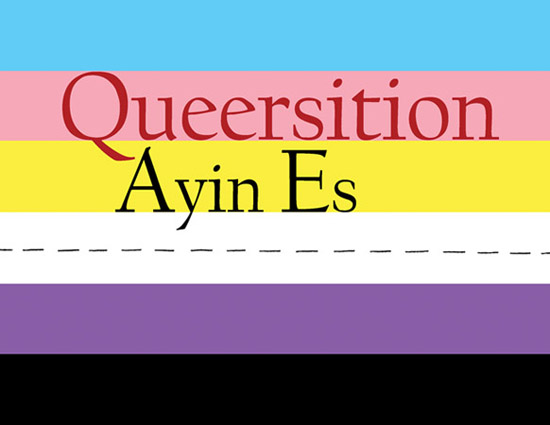 Queersition is a LGBTQIA+ zine by Ayin Es. It's a gender-affirming transition story about being nonbinary and transqueer. The narrative is depicted through over a dozen pen and ink illustrations and fifteen original watercolors all printed in both color and black and white on 80# premium paper.
Through these illustrations, Es takes the viewer through what it was like to come out as nonbinary, pushing their gender-affirming surgery through an unsupportive health system and legally changing their name.
It is a reminder of how trans people run into various issues along the way. It can be tough, humiliating, painful, and exhausting. Perhaps this goes to show how living out the gender you were not physically born with is not a "choice" but obvious mandatory in order to live life authentically.
Pages: 36 p.
Book Dimensions: 7 x 9 in.
Cover: 100# cardstock, matte (perfect bound).
Edition: 30, signed and numbered with one original pen sketch.
NOW AVAILABLE!
PRICE: $36.00 Buy (FREE shipping anywhere in the US)