Dan: The Imaginary Cartoon Animal
Mixed media art about Dan, the cat? The dog? The horse? Or what?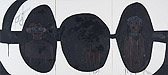 Is Dan a dog? A cat? A horse or a bear? Perhaps he is two people in an animal suit. No one really knows for sure. He is really a nondescript animal of which you decide. He was named liked this: Non-Descript Animal, but his letters were switched around a little to spell Dan.
Dan is a very special character and I'd love for you to read more about since he came about in such a wonderful way. He just appeared in my sketchbook one day, as if from a far off universe. He came to cheer me up. And all he asked of me in return was for me to make him live in my art, and it was good.
Click here to learn more about Dan.