This Land by Ayin Es
A drawing installation.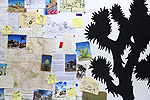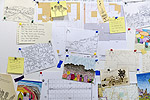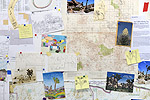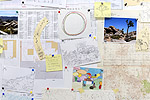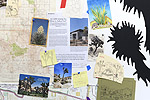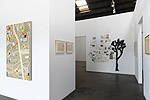 This drawing installation was a component of THIS LAND, an exhibit at Craig Krull Gallery in Santa Monica, CA in the fall of 2022. You can see a video of the exhibit here on YouTube.
The wall was compiled of both original and printed drawings, preliminary sketches, notes and lyrics, plat maps, various high desert area maps, articles, land coordinates, photographs, postcards, and original colored pencil art, along with a custom vinyl of a Joshua tree in silhouette on a nine-foot wide wall in the gallery. Colored thumbtacks were used to adhere most of the items onto the wall, as well as colored tape and band-aids. The installation was a way to inform the rest of the exhibition, the paintings, the purpose, and to bring about awareness of ownership of land as a concept.