Black Holes: Unusual Modern Artworks
Mixed media paintings, drawings, and watercolors.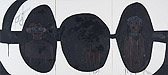 I've always had an obsession with black holes in space. This is true. Honestly, I like the dichotomy of their meaning both in astrophysics and psychology. In my art, I like to play with this double meaning and how it relates to life in general, whether it be about my own personal battles with depression, or whether it be a collective one. I feel like people can relate to this, as everyone has felt alone in a black hole to some degree or another. I do think this is a universal theme where maybe we can see that we are all in it together.