Judaica: Modern Art on Kabbalah and Jewish Themes
Original mixed media paintings on canvas, paper, and panel.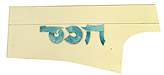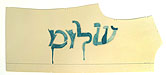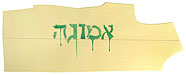 "Es is part of a long tradition of artists who seek out new vistas for inspiration and spiritual transformation. Earthworks artists from the 60s and 70s (ex. Robert Smithson, Dennis Oppenheim, Michael Heizer, and Nancy Holt) entered into the desert, or similar terrain, hoping to unearth new horizons in remote locations providing an "expanded field" for sculptural discovery...

"...For Es, this response is interwoven with [their] spiritual experience within Joshua Tree."

- Anne Hromadka, Independent Curator for the Exodus Project.

Artist's Statement: <-click here!

For as long as I can remember, I've been obsessed with my Mitochondrial DNA (the inheritance line of all the females in my family). I have wanted to trace them back to as far as humanly possible--all the way back to the Levi Tribe. I have always believed there is a genetic calling to my Jewish faith that's intertwined with my personality, my curiosity, my duty, sense of humor, and absurd tenacity. Through my art, I enjoy studying Kabbala (Jewish Mysticism) and seek to find meaning in my life. It is the natural existentialist that I am. I often incorporate Hebrew letters into my paintings and meditate upon them. To me, this is spiritual and psychological attempt for me to connect to my Jewish heritage and ancestry, and in a very strong sense, making art this way is akin to my journey home.