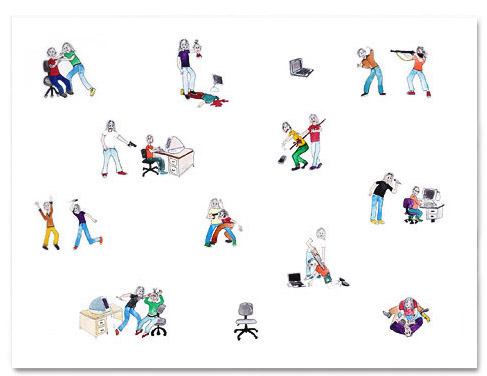 :::::AS SEEN ON THE HUFFINGTON POST!:::::
Originally created in watercolor and pencil in 2006, this print actually looks better than the real McCoy. I admit I became enraged by those infamous, ill-spirited "anonymous" comment makers on the blogs I frequented daily. Isn't it always the jackasses with a missing face that say the cruelest things? No decent person would have the guts to say half the things in real life that they do from behind their computers. So I made this artwork to remind myself not to take the internets so seriously. NOTE: That this watercolor was meant to be taken humorously and in light spirits - not seriously. I feel I have to say that because this image was later taken out of context, but I won't bring up the incident! Have a laugh and be done with it. If it's not your sense of humor, then move on.
Edition size: 30 - signed and numbered on archival, 100% cotton rag paper.
Image size: 21.5 x 28.5 inches.
Price: $200 + Free shipping anywhere in the US. Please allow up to 8 days for delivery.
BUY NOW 2 left!