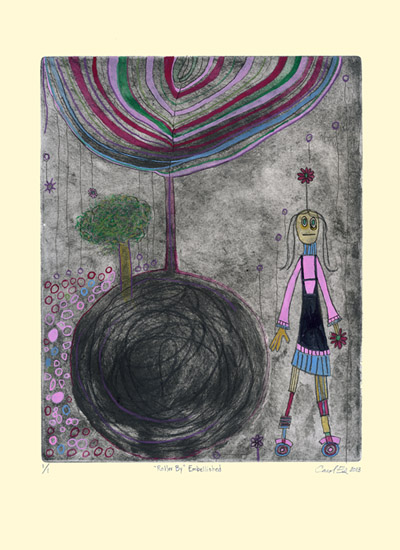 This is an embellished aquatint etching. I created many variations at Self Help Graphics printing studio in the spring of 2010, and it wasn't easy to ink this plate. I was only able to get an edition of variations by inking the plate on my own without the Master Printer. Luckily, she came in at the last minute and made me a small edition of three.
But aside from the six decent variations I did, I printed about a dozen "duds." Instead of throwing them away, I decided to keep them and eventually paint on top of them with watercolors and colored pencils. I finally have been getting around to doing just that and this is the first one. I this at the end of June of 2013 and intend to get back to doing more and making them all very different and one of a kind.
Edition: One of 1 ........... Merry Christmas Lisa!
Image Size: 10 x 8 inches.
Paper Size: 15 x 11 inches.
Price: SOLD + $8 shipping/insurance anywhere in the US.