Carol Es: All's Well in the High Desert
Virtual Solo Show of Paintings and Drawings.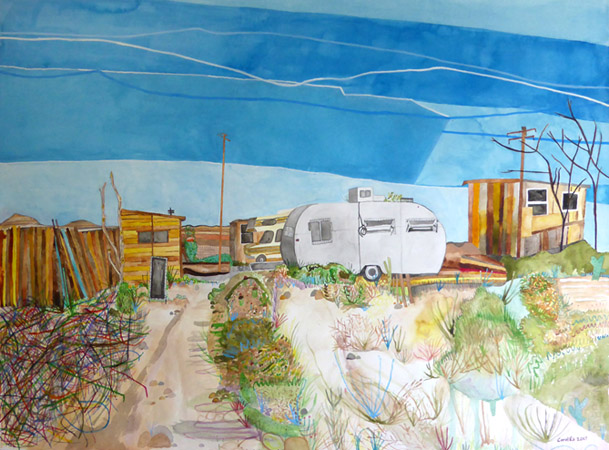 Craig Krull Gallery
2525 Michigan Ave. B3
Santa Monica, CA 90404
(310) 828-6410
On Line Only, Winter, 2021
In a worldwide pandemic, all is well in the high desert of Joshua Tree, California. I relocated here from Los Angeles with my partner after being frequent visitors for over twenty years. It was here where I found peace, on every excursion, and now in permanence, as we live our day-to-day lives in a house that borders the Joshua Tree National Park.
Sequestered in this haven, the discoveries in the news feel surreal. The number of people infected by the virus are matching the insurmountable stars in the sky. It is easy to think it's not really happening. It's easy to give into the peaceful solace that surrounds us while the world is seemingly going to shit.
But Joshua Tree is the place where I have become whole. It is here where I have found my mind, my imagination, and my true self. Desert people are a strange bunch. You have to be to endure these elements. It gets extremely hot, and unbearably cold. Everything slows down, and the outdoors smell better than a chocolate factory, especially after it rains.
All the plants look like a Dr. Suess dream. There are more Joshua Trees than there are people and just as many birds. A myriad of bunnies and quail scatter our property at dusk and dawn, the bobcats and coyote run free, and now, so do I.
...
Carol Es is a mixed media artist who identifies as a nonbinary, genderqueer person. They are known for their unusual paintings, personal collages, and storytelling Artist's books. Widely collected, their imaginative artworks reside in museums such as the Getty, Brooklyn Museum, and National Museum of Women in the Arts. A two-time recipient of ARC Grants from the Durfee Foundation, they've also won a Pollock-Krasner Fellowship and grants from the National Arts and Disability Center/California Arts Council, Asylum-Arts, as well as the Bruce Geller Memorial Award from the American Jewish University, and the Wynn Newhouse Award.
Their work has been reviewed in Artillery, LA Times, ArtScene, LA WEEKLY, ArtLTD, Art&Cake, and WhiteHot Magazine. Carol lives and works in Joshua Tree, California with their partner Hannah.